This course has been an amazing study. I have learned lots of valuable information that will enableme to be a very successful hypnotherapist. The first thing that struck me was the three parts of the mind. Everyone knows two parts of the mind, but I was totally unaware of the analytical or critical area and this being the part of the mind which decides if something is true or not before allowing it to pass to the subconscious. I learnt many other things as I worked through the course, but the next thing that struck memost was the different types of hypnosis. I only ever thought that hypnosis was hypnosis and that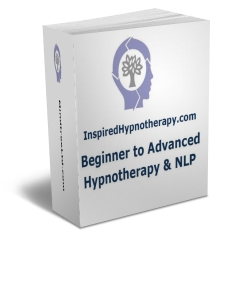 there was just one way of being hypnotized. I now know that I was hugely mistaken and deciding which method to use is all part of the pre-induction talk, and getting to know yourclient through building rapport.
Trusting relationship is important between therapist and client, this is something that I learned from the course that I should have known but I never give it thought.
I was very surprised to learn that hypnosis is all done by the individual and that a therapist was only a guide. Obviously I know of self hypnosis as I have taken part in this past-time for a few years now, but I still believed that a hypnotist had "special powers", how wrong was I? One of the things to strike me most was that hypnosis has so many uses. The forensic one interested me the most, but most of all how many complaints can actually be treated with hypnosis. The one thing I definitely have learnt is that there is no substitute for actual hands on experience, (which is why I am going to book a course or 2 at your study centre). Another thing I was surprised to learn was what trance actually is, and looking back on how many times I have actually entered a trance like state without any outside help.
I was very surprised to learn about abreactions, on first reading they sound they could be daunting for the newly qualified hypnotherapist, but after reading further it is so obvious how beneficial these abreactions can be for client and how they can change a person's life for better. It is very difficult to write what I have learnt in just 400 words as I have learnt so much I feel I could write 400 pages on the subject.
Follow up mail from
Shaun Dawson - Doncaster, South Yorkshire
..................................
Hi David,

Just wanted to let you know that I have started reading through the course material
and I think it is truly wonderful...52 pages through I have realized how many negative
programs my brain is carrying and have started working on their elimination..

Great material!
Thank you.
Natalia - America
..................................
What I Have Learned From This Course in four hundred words? I think just one could sum this course up and that is "Wow"! Well, where do I begin? Well, the history of hypnosis was fascinating and I now know where the term "mesmerised" comes from. Also, being a trained NLP Practitioner I now understand why NLP refers to the "unconscious mind" and Hypnosis the "subconscious mind"– fascinating.
I also now fully understand how to induce trance, take people deeper and how to make life changing suggestions whilst in a trance state. It was also good to hear about potentially worry situations that may arise (Abreactions) and how to deal with them safely.
But probably the most beneficial part of the course for me was the information provided about how you, as the Hypnotherapist, need to present yourself, how you display confidence, build rapport and make the client feel 100% certain that you will be the person to help them overcome their problem. The insight into Fight and Flight was fascinating and although this is a well known saying, I am not sure that I realised the relevance, particularly in the Hypnotic sense-but I now fully understand that this is what the client will be experiencing when they approach Hypnotherapy for the first time and why it is so important to put them at total ease to ensure relaxation to enable the Hypnotherapy to be successful.
I have been on many courses over the years and so many provide the theory and yet you go away thinking how do you put it all into practice. This course provided the exact amount of detail on how to prepare a session, how the therapy room should be set up – the lot. Super stuff.
The section on language was particularly interesting, particularly with my NLP background; and I particularly liked the "Yes Set" questions – it is something that I have never come across before.
All in all, I have learnt so much. I must admit I was sceptical about learning Hypnotherapy via this route, but can honestly say that I am delighted with what I have learned and I am now 100% confident in my abilities to put this new found knowledge into practice. It has been a step learning curve but one that will help me help so may people. Absolutely fantastic. And like I said at the very beginning – Wow!
Excellent product, very professionally packaged and content was superb. David Glenn was very helpful and answered my questions promptly.
All in all, excellent company, excellent products. Well done and thank you very, very much.
Gavin - Devon
..................................
Thoroughly enjoying your course, by the way. I have read much in the past, but your course gives you the 'nuts & bolts' without having to plough through endless books and trying to pick out the relevant points.
Thank you
Gareth Whithair - Slough, Berkshire
..................................
I am enjoying it very much thank you. I'm just under half way through reading it and I find the whole subject fascinating. It is clearly and engagingly written and easy to understand. Although I have read quite a few books for the layman about NLP and hypnosis none has put it all together so succinctly. I am learning lots of things which I never knew before which I love. I think it has a very unique slant on the subject too which I also appreciate. I am looking forward to taking the exam at the end of my study.
Terry - London
..................................
The course itself was of the highest standard ive seen and is formatted in laymans terms which makes learning easier, interesting and more enjoyable. It defines each process of hypnosis from the psychology of a person, actually taking the client to relaxation, right through to psychologically speaking creating a new person, in easy to follow steps.
Andrew Abel - Guisborough, Cleveland

..................................
I think the overall course is extremely comprehensive and easily understood, covering all the necessary topics to begin hypnotherapy practice. I am very satisfied with the content and will certainly be prepared to undertake further instruction from David as required by myself.
Jim Cowan - Aberdeen
..................................
I think the course has been excellent, it is very informative and covers the subject very thoroughly.
David has taught his subject with an easy to understand manor. The course was never boring and very entertaining.
David Glenn has given me the confidence to move forward into a new profession and I thank him for that.
Gerard – Special thanks to Gerard as he came all the way from Australia to attend our courses.
..................................
From day one right through each day has been an intense and powerful mind expansion, reaching a high intense positive outcome.
Many thanks
Alan - Wigan
..................................
The course has been thoroughly enjoyable and I feel I have gained much from it. There has been a variety of things and ways of looking at and around the subject of hypnotherapy which has sustained my interest and in some instances made me view some things differently.
The teachers and methods employed have all been enjoyable and a great pleasure to experience, so much so that I simply had to do the second week immediately after the first. (Instead of the second week in February as originally intended)
I think Dave Glenn is simply wonderful.
Manuel - Llandrindod Wells
..................................
Give my thanks to Dave Glenn his instruction was very knowledgeable and entertaining. The more I read his scripts the more impressed I am and the more I count myself fortunate to have met him and had him as my trainer.
Tony - Manchester
..................................
The course is really very good!
I must say that it was delightful to read something as useful, descriptive and practical as your Diploma course. Whilst I have recently learned theory by the bookshelf, it was great to see real-life applications (like the joystick concept for increasing and decreasing pain - much easier to relate to than 'symptom manipulation')
Kate - London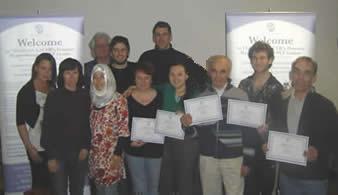 ..................................

Thanks very much for the course - it was well worth the investment!
Liz - Manchester
..................................
Informative, interesting and thought provoking
Peter - London
..................................
The lecturers have been inspiring and their guidance and teaching has been superb.
Paul - Wigan
..................................
This course is brilliant. Well laid out and takes you from complete novice to competent hypnotist in a very short time. Although I have studied under other people such as Gerald Kein, cal banyan, Richard Bandler and reading Dave Elman and Milton H Erickson, this course was the easiest to read. I look forward to my exam results and cant wait to be certified by this rather grand company.
Martin - Herefordshire
Just a quick one to say thank you for all you have done for me. Your course is incredible. I hope to get on one of your other courses in the new year and see you so I can shake that hand of yours with gratitude. Thanks for all your support it has been incredible.
Follow up email from Martin - Herefordshire
..................................
Dave Glenn proved to be an excellent instructor. The information that was provided in his course manual was thorough and excellent. There was plenty of information both theoretical and practical that I could easily read and understand. His teaching sessions were clear and unambiguous. The congenial atmosphere that the teaching sessions were conducted in allowed me to feel free to ask questions and to develop my confidence in the practice of hypnotism. This course has provided me with the knowledge and practical skill to induce hypnosis in order to affect positive changes in a person. With instruction through the manual, videos and practical sessions, I have gained a deep understanding of hypnosis and the ways I can use it. The practical session involved the practice of suggestibility tests and inducing hypnosis. I learned how to control my voice in volume, tone and speech patterns. Through my voice and words alone I was to my delight able to induce states of hypnosis. With this knowledge and practice, I have been able to begin a journey of self discovery that will hopefully bring great benefit to others. My interest during the course was particularly piqued when I became aware of the widespread use of hypnotic techniques that we are surreptitiously subjected to in our everyday lives. I now engage in shopping, advertising and marketing campaigns with a greater critical understanding of how companies try to achieve a sale. I have also become self aware of the trance states that I am commonly in. This has led me to question the way I conduct my day to day life and to what extent mine and other people's conscious minds are in control of their actions.
Sammy - Manchester
..................................
The course structure and information is incredible. It is well laid out in an easy to follow format and gives us not only the technical aspect but also the history of how it came about.
I could think of no other than Dave that has put so much detail into one very easy to follow course.
I wish the organisation every success in the future and hope that I have success in this exam!
Malcolm Jolly - Cornwall
..................................
I think that this course was excellent; exactly what I was looking for, a bargain for the price, and a great investment in and for myself in the future. I have already used some of the techniques on people and many friends and family have asked me to help them stop smoking, loss weight, gain confidence etc. It is amazing how much information is so tightly packed in the training course book; it is amazingly comprehensive but in such a way that it spurs you on to improvise, adapt and utilize the skills based on the client you have before you. It demands that you use your own initiative. It challenges preconceived notions regarding NLP, hypnosis and therapy in general, condensing the huge amount of literature on the subject into a useable set of best methods and practice. It has taken me so long to return my exam because I read it three times to absorb the information! It uses wit, humour and a personal touch especially with the use of 'dear student' throughout the course and how you may use the techniques in real life situations using 'Jedi mind tricks' on certain types of people. It is written in an easy to remember, approachable, gently authoritative style which engages you from beginning to end. Every page is full of interest and captures your attention and forces you to think from beginning to end. I think David is a superb teacher and this course proves it. I am glad that I Googled 'hypnosis home study course' and that David's website was at the top of the list. Many other NLP/hypnosis teachers act like super gurus with semi-magical powers (probably so they can justify charging exorbitant course fees!) but David shows that it is all a learnable skill well within the grasp of the beginner who applies themselves. I think you make certain very good decisions in life, some that change its course for the better: David's course certainly does that.
My mother has suffered from stress related problems for years. I used merely David Glenn's induction method and a few suggestions that she was now a relaxed person with no problems, which were in the past. The result was nothing short of miraculous. For the past week she has been a different person, calm and easy-going and everyone is shocked at the change. What a lifetime of doctors and psychiatrists failed to treat I did so within a maximum of twenty minutes using only a few of David's techniques outlined in this fantastic course. Thank you David.
Terry - Surrey
..................................
Non- Smoker Clients
I am a non smoker, I haven't had one, I haven't wanted one, I came home after see you and my subconscious, thankfully put them all in the bin all the cigs went in the bin and I didn't even know I had done it.
I walked out of your place and though I bet I smoke but I haven't even remotely wanted one I am truly utterly amazed. I could not have stopped on my own I really am amazed. My friends at work can't believe I'm a non- smoker after all these years. I didn't think it would work like it has. I didn't think it would work.
K.B - Wigan
..................................
I've not had a cigarette since seeing you
D.B - Manchester
..................................
I haven't had one, to be quite honest it's absolutely weird I don't even think about them. I went to a birthday party over the weekend at the local pub and my sister smokes, I went outside with her a couple of times as she wanted a cigarette but it was irrelevant to me, it weren't an issue to me at all.
I don't dislike them or like them they just don't bother me. If I had stopped on my own I think I would still be smoking as that thought would have come back into my head. I am completely relaxing more than normal.
A.F - Prestwich
..................................
A friend of mine has tried to stop smoking and he is thinking about them all the time and finding it hard but I'm not at all.
S.W - Leigh
..................................
hi dave,thanks for your book you sent via e-mail. Also ive been meaning to call you for days now,cause i just wanted to tell you that since i left your house i have been feeling overall great and not fancied a cigarette at all and have put myself in situations to test myself but nothing ...i felt nothing .i will ring you some time soon when i get a min at work, to thank you properly , but for now THANKYOU XXX L - Manchester
..................................
Weight loss Clients
I came to see you in February and I am very pleased I have lost a stone so thank you.
J.S - Disbury
..................................
I have lost 3 pound as you predicted in a week and I've been away so I've been really good and I haven't touched any chocolate. Thing is in the past I think I have failed because I have forgotten that I need to be good. I would forget and on auto pilot I would buy chocolate but now I don't its odd that I think of the scenario that you gave me. I've been eating better and I haven't gone on a diet so it's given me a big jump. I have found it surprisingly easy and I feel much better in myself and more confident.
L.K - Bury
..................................
I feel better than I have in many years; even my boss has seen a huge change in me
O.Y - Atherton
..................................
It has been fifteen years since I have been able to lose weight, I have no idea how you do it but thank you
J.P - Stockport
..................................
I've lost 2.2 pound (in one week), I didn't know what to expect but I've found it different than going on a diet. It's like I want to eat fruit and I feel so much happier and I feel it's affected other areas of my life. People's reactions to me are different as well and I think it's because I feel more confident. The money put me off but I came any way and I'm so happy I did. I've left my red wine alone as well and I tried some but I didn't enjoy it like I use to so I don't even miss it, it's great. I've set myself a goal for 3 pound next week.
R.W - Manchester
..................................
Hi David Hows things with you ? Just to keep you posted on me - the night I came to see you ( wednesday ) as you know I said I was topping 20 stone . I weighed and measured myself on the Friday i was coming in at 19.7 and I was struggling with a size 24 This morning I weighed in at 18.2 and am in a comfortable dress size 20 . I have set myself a long term goal as you know , I am not on a diet - I am just approaching food as any normal person would . By the time we do the tria athalon next year I intend to have shed 6 stone . I play your CD every night in bed ( if I lose more weight and therefore get a sex life I may have to re think this bit ha ha ha) in fact I think its safe to say I am dependant on it . Thanks for everything David . just to let you know I am going to send my daughter to see you soon , I am paying for her session for a birthday present . If you thought I was in denial - wait til you meet her !!!! Will e mail you with another update in a fortnight .
M - Manchester
Just to keep you posted - I have in total lost 1stone 10lbs. I love you Dave !!!!!!!!!!!!!!!!!!!!!!!!!!!!!!!!!!!!!!!!!!!!!!!!!!!!!!!!!!!!!!!!!!!!!!!!!!!! xx
Follow up email from M few weeks later- Manchester
Hi Dave Hows things with you ? I am still fab - over 2 stone lost and really seeing life differently now. Have bought myself a bike and have been going for gentle jogs twice a week , and swimming as well. Cannot thank you enough, money well spent xxx
Second follow up email from M eight weeks later- Manchester
Call NOW to book your FREE Consultation or Hypnotherapy session/course

and start living the life you deserve today:

01942 256 541 or 07973 481 786