Hypnotherapy Diploma NLP Advanced Masters Course
Accredited by the "British Association of Hypnotherapy NLP" (BAHN)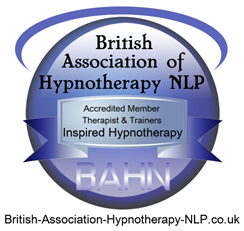 This Advanced Master Hypnotherapy Course can be taken after sufficient training, practice hours and experience have been achieved. It is designed to instil confidence in you as a therapist and to prepare you to work with a variety of problems your future clients may have. All applicants must have completed a Hypnotherapy Diploma before attending this course.

Over the course of two exciting days you will be taken further into the realms of language patterns, metaphors and persuasive and mental process changing. You will also learn numerous specific interventions for helping a wide variety of specific problems. This is a fantastic addition to your tools and skills learnt on the Hypnotherapy Diploma.

You will leave the course feeling confident in your abilities to treat clients professionally and with a greater understanding of the wide variety of skills and techniques available to you. Applicants will also need to provide previous records from their first ten clients treated after the Hypnotherapy Diploma. This can be done in the standard format of a description of the "problem", and the tools and techniques you used, with feedback from yourself and the client ideally.
Call NOW to book your FREE Consultation or Hypnotherapy session/course and start living the life you deserve today:

01942 526200 or 07973 481 786